Topher Straus Process
Disciplined, dedicated and in love with the West.
Many exceptional examples of fine art begin with nature, plus a profound understanding of composition, surface, color and texture. To render the three-dimensional world, and sometimes the greater forces of nature as well, on to a two-dimensional plane and establish a new reality is an exacting challenge.
Topher Straus begins with a photo, often one from a personal, outdoor experience, or seeks a compelling reference image to make a new photographic collage from which he bases his work. These images connect with him on an intimate level and require a kind of immersion of self, the enveloping sense of place fueling his creativity.
Using a computer, the final image is analyzed in order to isolate the best colors for his unique version of the scene, strengthening, condensing and simplifying. Cool or warm, the color selections create depth, perspective and emotional response. A stylus becomes the tool of choice as he carefully indentifies the gradations of tone and hue, utilizing clean contour lines to describe the horizontal, diagonal, or vertical quality of the landscape. Time-consuming and tedious, each stroke requires a specific and deliberate decision out of hundreds of options.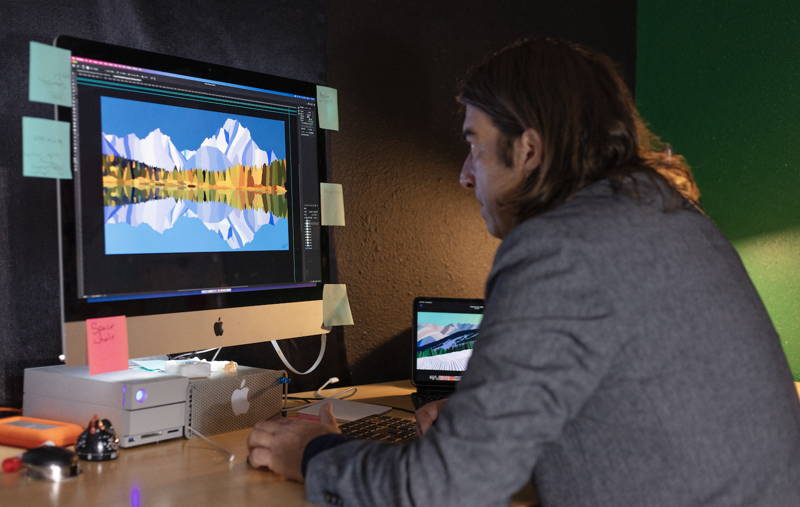 "Once I've obsessed over the minute details," said Straus, "and feel content with the quality and composition of the digital painting, I sublimate the painting onto an aluminum sheet. The sublimation process bonds dye to the aluminum on a molecular level. Then the sheet is coated in a glossy resin, to give it a partially mirrored finish. The work is now preserved for at least the next 100 years."
What the artist has discovered is that many viewers and collectors have their own personal relationships to these iconic places, allowing for a wide range of individual response. People connect, each in their own way. For Straus, what begins as a deeply personal record of a memorable time and place, inevitably becomes a transcendent, universal message.